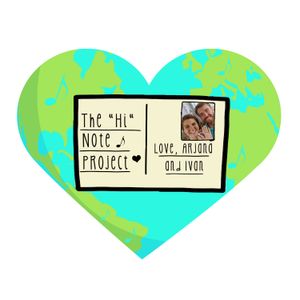 The Hi Note Project, #virtualworldtour for a cause!
These past couple of years have brought more change and more uncertainty than we'd dreamed in the time leading up to it. When Covid started, our lives shifted pretty drastically, and we know yours did too. The thing we missed most was you; our friends and fans and our beloved clubs, bars, restaurants, and other special places we'd been lucky enough to play over the past years, spread out over all the corners of the world. It's great that for the most part we are traveling again, able to set foot in each other's space and share music and memories side by side.
Not everyone is so fortunate, however, and with the recent troubles in our world, especially on a personal level with our family in Ukraine, we wanted to channel some efforts into trying to help in whatever ways we can. Our original goal for "Hi Note Project" was to spread good cheer and fundraise for clubs and restaurants that were struggling. Since then, we have kept that message going and offer our virtual concerts for fundraising purposes for good causes! There are too many to count, and that's where you come in. Please contact us if you have an idea for a special livestream show right through the Facebook pages of our favorite places around the globe! We're on a #virtualtour of sorts, a reminder to these lovely spots of how special they are to so many, show them some love, and know how music is a way we can still reach across the borders of countries, or even just across the street to greet one another on a "hi" note. 100% of tips/donations made from our show will go straight to supporting our host venue's charity of choice, in solidarity with these wonderful small businesses we love so much. Here's a sample of one of our  "Happy Hour Live" shows to get a feel for our virtual shows: https://www.facebook.com/arjanaandivan/videos/1066436487092306/
Make sure you follow our Facebook page at http://facebook.com/arjanaandivan for the latest updates on where and when we will be playing so you can tune in and travel with us around the world! If you know of a place that you adore that you think might be a great spot on our tour, shoot us a message and let us know!